Meet the Kinetic Sports Performance Team
Our team at Kinetic Sports Performance are here to see you succeed! We are experienced in training many different sports at all levels from middle school aged athletes to professional and we have acquired many of the leading certifications in our field. More importantly, we have a drive to get better at our craft and work to provide a quality sports performance program that no other facilities can offer.
Matthew Cloutier, PT, DPT, CSCS, PES, CES, USAW
In 2003, I graduated from the University of Delaware with a degree in Exercise Physiology.  While there I also played tennis for four years.  I attended East Carolina University, and graduated in 2005 with a Master of Physical Therapy degree.  In 2014, I completed my Doctorate in Physical Therapy from The Evidence in Motion Institute of Health Professionals.
In 2008, I decided to start my own company, Goal1 Performance, LLC.  For years, I was able to train various athletes from different types of sports such as football, lacrosse, field hockey, soccer, and swimming.  I had much success in helping them reach their goals while maintaining longevity within their sport.  In 2013, I decided to close my company to create a sports performance program within Kinetic Physical Therapy.  This helped to bridge the gap between sports performance and PT as well as expanding my approach towards training athletes by using sports science and technology.
Currently, I am a senior staff physical therapist at Kinetic Physical Therapy and the Director of Sports Performance.  As both a PT and Sports Performance Director, I have the unique ability to change the way athletes are trained and treated.  I use sports science and objective data to properly train and monitor our athletes to minimize overtraining and enhance performance.  This program creates a true synergy between physical therapy and sports performance, thus ensuring advanced performance training, exceptional communication and education – all of which will lead to superior results for the athlete.  I do have aspirations of conducting research that can help apply sport science to sports performance and physical therapy thus ensuring the longevity of our athletes.
In order to develop further, I obtained my Certified Strength and Conditioning Specialist certification – CSCS from the National Strength and Conditioning Association as well as my Level 1 Sports Performance certification from USA Weightlifting.  I also have obtained a Corrective Exercise Specialist – CES specialization, and a Performance Enhancement Specialist – PES specialization. Both are from the National Academy of Sports Medicine (NASM).
When I am not working, I am spending time with my wife, Brittany and our three children, Addison, Tyler, and Grayson.  I like to be active by running, lifting weights, playing soccer and tennis, and watching my favorite sports teams especially FC Barcelona.
To Star Working with Matt - Fill Out Our Contact Form or Signup For Online Training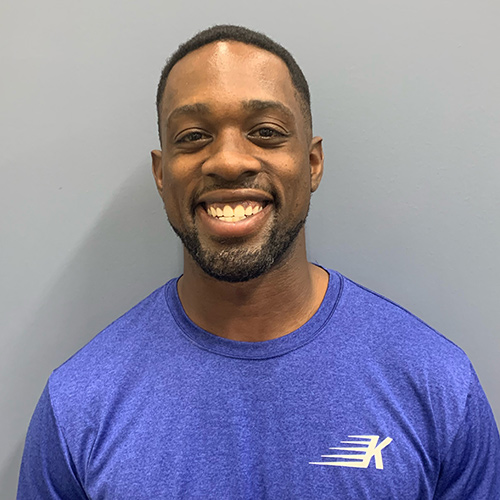 Alexander Joseph, NFPT-CPT, NASM-PES.
In December 2014, I graduated from the University of Massachusetts with a degree in Sports Management. During my time there, I played for the Men's club soccer team that I led to 3 Regional Appearances and 1 National Tournament appearance. Once I graduated, I quickly found my first job with the New York Yankees in March 2015 as a part time sales associate. I worked myself through the ranks through the company to become an Account Executive, managing a portfolio of $1.5 million and a retention rate of 89%. Although, I was successful in climbing to higher ranks and performing at a high level, part of me still missed the game of soccer very much. 
During my latter years of the Yankees, I made the commitment in playing soccer and forging a path for myself to play at the highest level possible. From 2016-2018,  I made time to show up for myself to train every day. Training included gym workouts, cardio and soccer specific workouts. During my time of training, I found ways to connect with old coaches in order to put myself in a position to be ready for the next opportunity. 
That opportunity came in April 2018, where I had the opportunity to tryout for the Philadelphia Fury and Atoms. In May, I moved from Commack, Long Island to Philadelphia, leaving my secured job in the pursuit of making my dream a reality. Unfortunately, in my first season as a Atoms & Fury player, I was injured with a hamstring strain and was out for the entire Spring/Summer season. I kept up with rehab and my own workouts in the meantime, until it was time to get back on the field. During my time off, I had an opportunity to showcase myself in Huesca, Spain to a couple of clubs (Tardienta FC and Sietamo) in Aigist of 2020. 
Words cannot describe the exposure and experience I gained from starting in 2016, putting myself through training and making a way for myself to play in Spain for two weeks. When I returned, I came back for a couple months to train with the Philadelphia Fury where I experienced another leg injury, ending my season with the club. I took time for much reflection and realized for myself, it was time to forge forward into a new path and that is when I transitioned to become a Fitness Coach. I obtained my NFPT certification in December 2019 and was officially training by end of January 2020. I worked with primarily adults ages 30-55 years with the occasional athlete in between. It was then I realized that I still wanted to be involved in sports and that I can use my knowledge, experience and exposure to help guide the athletes of today on their athletic endeavors. 
In January 2021, Level Up Athletics & Performance was born, where I committed myself to work with athletes primarily. I've worked with soccer, basketball, football and track athletes since the company inception. During this time, I received my next certification, NASM-PES. Great experience in my first year, however, there is still much to learn. And I'm grateful to have been awarded an opportunity to work with Matt Cloutier and the PT staff of Kinetic, where I can hone my skills as a Performance coach, elevate my knowledge of training with the completion of the CSCS course and obtain a higher level of understanding sports science and objective data that can be used to enhance my current training style  to minimize overtraining and enhance performance.  I love being in this space where we can create a strong synergy between physical therapy and sports performance, which will lead to superior results for our athletes. 
Away from work, I stay active through my own training, yoga, occasional hikes around Philadelphia and play soccer on my own time. Chelsea has been my team since 2007, along with the Knicks, Yankees and Jets. I also play the violin and meditation is key in my day to day lifestyle.